Decisions equal success. Scaling Up author and Gazelles founder Verne Harnish has identified Four Decisions that you must get right to grow your business and avoid leaving significant revenues, profits, and time on the table.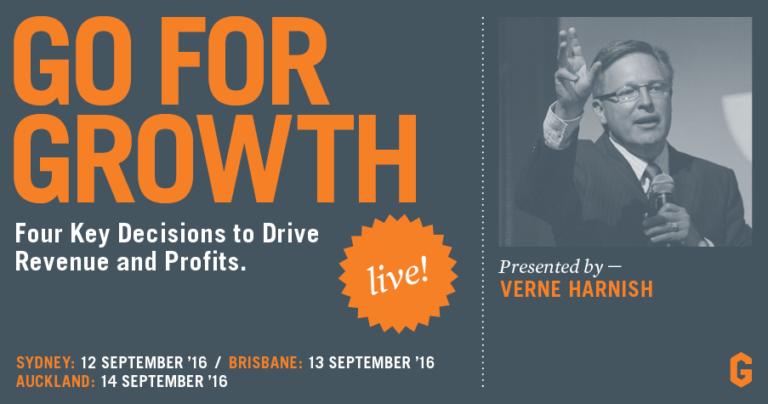 Go For Growth – Four Key Decisions to Drive Revenue and Profits, a one-dayAuckland business growth seminar was presented by Verne Harnish in September 2016. Based on his famous One-Page Strategic Plan, Verne presented crucial insight to help Leaders execute these decisions, which are fundamental to survive and thrive in the rapidly evolving business world. This one-day growth seminar was full of actionable ideas guaranteed to grow your business during these uncertain times.
Leaders attended this crucial business growth seminar to:
Create customer loyalty that makes price irrelevant
Fuel growth with smart cashflow management
Learn what's working in today's mega-growth businesses
Build real market value and serious stakeholder wealth
Did you attend the Go For Growth business seminar? Did you find value in the insights presented by Verne Harnish? We'd love to hear your thoughts.
Did you miss out? Are you in need of help with the One-Page Strategic Plan or growing your business? As one of just three Gazelles International Coaches in New Zealand, Leigh Paulden has all the credentials to help you plan and employ a successful growth strategy.
Note: SSBG and Leigh Paulden are not affiliated in any way with the Growth Faculty.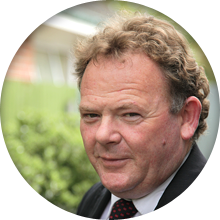 Leigh Paulden
"I bring my clients executive education that has been internationally tested and proven to drive business performance. I understand the factors that influence growth and business practice and create the clarity and certainty you need to make great decisions for success."
Leigh Paulden is an internationally certified business consultant working alongside New Zealand businesses serious about growth.
LET'S TALK TODAY!