The Inside Advantage: The Strategy That Unlocks the Hidden Growth in Your Business
By Robert H Bloom
Reviewed by: Leigh Paulden
Who should read this book: Any business owner looking to form the foundation for future growth.
"I don't believe that any service or product is a commodity. Of course, commoditisation can and does occur, but only when a firm allows it to happen."
― Robert Bloom
Leigh Paulden's comments:
For a deep dive into developing customer personas for establishing who your core customer is, I would recommend that you read The Inside Advantage: The Strategy That Unlocks the Hidden Growth in Your Business by Robert H. Bloom.
This is a bible for developing customer personas, establishing who your core customer is, what your uncommon offering is, and how to convince that customer to buy your specialist offering. Bloom explains how to own the process through a series of imaginative acts to celebrate your uncommon offering that will appeal to your core customer.
Bloom leads you on a journey of insight into the core values of your business. It will guide you to a clear understanding of who your customers are and what your specific offerings to those customers should be. The underlying message is that the key to growing your business already exists inside your business – you just have to find it. His four step Growth Discovery Process is powerful and easy to implement. This is a vital read, taking you and your products from channel to market.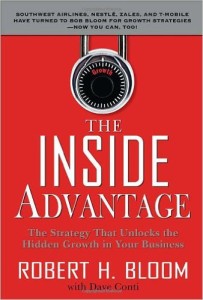 About The Book
Hardcover: 240 pages
Publisher: McGraw-Hill Education
Published: 17 October 2007
Language: English
Genre: Business & Money > Strategic Planning
Average Review: 4.5 out of 5 stars
(19 total Amazon reviews)
Get Business Insights
Leigh's recommended reading of must read articles, books and tools to help you grow. Delete the fluff and read the good stuff.