A PROVEN PATH TO PROFITABLE GROWTH
Sustainable Business Growth Consulting and Expert Guidance.
Helping High-Growth Firms Achieve Their Vision
Are you struggling to achieve the vision that you have for your company? Unfortunately, there comes a time in every growing business when current strategy, capacity, and resources simply don't cut it. When your business growth has stalled or is happening so fast you feel out of control, we can provide action and results.
At Scalable Sustainable Business Growth (SSBG), we help business leaders who are struggling to achieve their business goals and know there is a better way to scale. As expert advisors in business growth strategies, we coach mid-market CEOs and leadership teams with a proven framework, an individualised approach, and expert advice to grow and scale with success.
We have a successful track record of business consulting with New Zealand's top mid-market firms, including a number of Deloitte Fast 50 winners. SSBG clients have a combined annual revenue of $306 million.
We help high-growth firms achieve their visions. Mid-market businesses working with SSBG typically experience 2x or greater cash-flow, 3x industry profitability, and significant revenue growth. In fact, last financial year, our clients had an average business growth rate of 34.23%.
Growth Trajectory
Assessment
A simple yet powerful tool developed to help you assess your growth trajectory and help you build a growth roadmap to future success.
Our Services
Our strategic business management and growth consulting service include programs tailored
specifically for midmarket CEOs and their leadership teams.
Scale & Grow
Frustrated with your growth rate? Whether your business growth has stalled or it is happening so fast that you feel out of control, we provide a proven path to help you achieve your vision and scale with success.
Grow & Exit
If your revenue is above $30 million revenue, or your vision is to be above that, our agile, scalable, and comprehensive business tools and frameworks can help you position your business for a strategic exit that achieves maximum financial value.
Led by Expert Business Consultants
If you're going to stake your company's future on someone, then you need to be sure they bring more than just expert opinion to the table. Our trusted and experienced business management consultants are here to help you.
SSBG Director, Leigh Paulden, is one of the leading providers of mid-market advisory and coaching services in New Zealand. For over 40 years, he has honed his business skills, expanded his knowledge base, and built his capability.
Leigh has undergone rigorous international training and has extensive experience with globally proven business growth frameworks. Most importantly, Leigh is passionate about the success of the leaders and companies he is growing through mid-market advising and business coaching.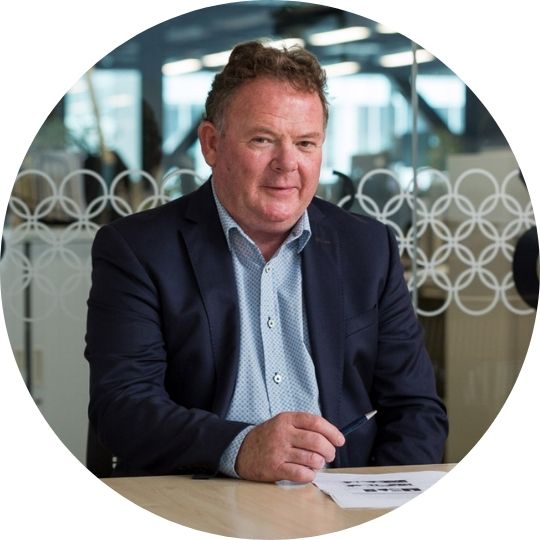 Supacolour
How Supacolour went from domestic success to an international superstar. Read case study.
SalesStar
How SaleStar made the leap from home business to a global force in sales transformation. Read case study.
Achieve Sustainable Business Growth
In business, no matter what challenges you face, your decisions will have an impact on your ability to grow. Business owners come to us when they want a proven path to achieve their vision and increase their bottom line profit.
We deeply understand the critical issues faced by mid- market businesses who are currently growing or looking to grow, including pressures on the leadership team, cash flow, capability, business strategy, systems, accountability, and company culture.
At SSBG, we're here to help your mid-market business scale and succeed. We provide a holistic business approach. From your business model through to your people and business processes, our business growth experts provide you with the actionable insights and guidance needed to take your organisation to the next level.
When our business growth advisors review a client's business to understand their business needs, they utilise the best business planning tools from internationally recognised frameworks.
If you want to improve profitability, execution, and business sustainability, our specialist business advisory company is committed to your success.
Business Growth Pains
In the video below, Leigh talks about the common issues facing mid-market business leaders and how to overcome your business growth pains.
Become a Business Champion
We understand the issues facing NZ business leaders. We combine this with knowledge and experience to help you develop a personalised growth strategy and become a business champion.
If you're serious about business growth – get in touch and let's see how we can move your business forward.
WHAT OUR CLIENTS ARE SAYING

Premium Executive Business Consultants.
Gravitas Impact is a world-leading executive education platform that helps mid-market companies scale and succeed.
GI Consultants and Coaches undergo rigorous annual training for their certification and are recognised as the most experienced and effective mid-market business growth consultants in the world.
Growth strategy is based on the proven 7 Attributes of Agile Growth™ and Four Decisions® frameworks and methodologies from globally recognised thought leaders.
Growth Strategy Consultants.
Outthinker is an internationally proven framework to help mid-market businesses achieve strategic clarity. The Outthinker process helps business leaders 'think new' and identify disruptive and innovative strategies with the outcome of driving long-term company growth.
Used by 300 companies globally to accelerate growth rates by 100%-120%.
Outthinker growth strategists undergo rigorous training and demonstrate transformative client impact.