Outthink The Competition: How a New Generation of Strategists Sees Options Others Ignore
By Kaihan Krippendorff
Reviewed by: Leigh Paulden
Who Should Read Outthink the Competition: Any business, of any size, who wants to come up with new strategies to be disruptive or gain a competitive advantage.
"What makes a difference and provides an advantage is doing what your competitors will not do or will not respond intelligently to."
― Kaihan Krippendorff
Leigh Paulden's comments:
If you want to out-manoeuvre  your competition then this is the go-to book. It's highly strategic and will help you establish your multiple points of difference. This book looks at companies and the dynamics of business leaders who see opportunities where others don't and how they have disrupted the market to their own advantage.
Outthink The Competition provides a framework on how to think. You will learn the strategic power of being able to see, intelligently select, and pursue new options that your competition overlooks.
It gives you the processes and narratives to drive out of the box thinking. These help you to come up with strategies that are called "the fourth option": something your competitors may not have thought of or seen.
One of the most useful tools in the book are the 36 Stratagems. These strategic narratives help you create innovative and new ideas and get you out of ordinary thinking patterns.
It is from here that Krippendorff helps you to develop disruptive and innovative strategies or to "uncover opportunities hiding in plain sight". Providing a clear path to competitive advantage, this book is one of my top 5 business books of all time!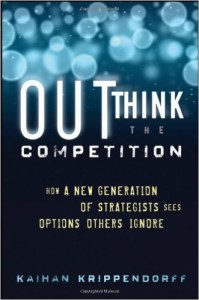 About The Book
Hardcover: 256 pages (Kindle also available)
Publisher: Wiley
Published: 20 December 2011
Language: English
Genre: Business & Money > Management & Leadership
Average Review: 4 out of 5 stars
(13 total Amazon reviews)
Get Business Insights
Leigh's recommended reading of must read articles, books and tools to help you grow. Delete the fluff and read the good stuff.