The Only Sensible Way to Run a Company
By Jack Stack and Bo Burlingham
Reviewed by: Leigh Paulden
Date: 05/09/2020
Rating: 5 stars
Who should read The Great Game of Business: All CEO's and General Managers, especially emerging mid-market leaders.
"The whole concept of The Great Game of Business is beautiful –consistency, alignment, and transparency, infused with core values and brought to life with powerful mechanisms. It is inspired and inspiring, a classic" ― Jim Collins, author of Good to Great
Leigh Paulden's comments:
Based on the Jack Stack's experience of turning a small and nearly bankrupt business into a healthy and growing company in the 1980s, this revised edition has been expanded and updated to incorporate the challenges of businesses in the 21st century.  One of the first examples of open-book management, the authors detail through the use of examples and case studies, how to create a business structure that involves your employees in the management of the company. When employees are invested in the success of the business, the results are greater productivity and an increase in revenue and profit.
When the Springfield Remanufacturing Corporation was threatened with closure by the parent company, Jack and his fellow employees decided to take matters into their own hands, save their jobs and create an open-book management system based on the principals of athletic competition and democracy.
This book provides the tools, road map and implementation guide for you and your staff to follow in the creation of a business structure where everyone is committed to the goals of your business.
Companies who have used the Great Game of Business system have reported higher levels of team engagement and an increase in profit and revenue margins.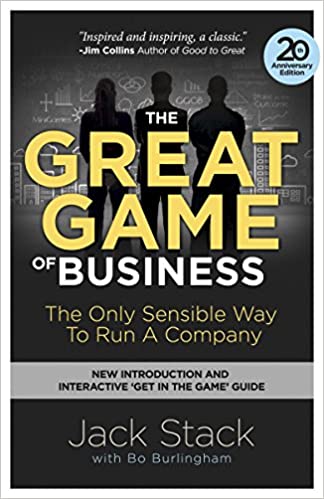 About The Book
Paperback: 384 pages
Publisher: Currency, Revised, 20th Anniversary ed.
Published: 2013
Language: English
Genre: Business/Management
Average Review: 4.5 out of 5 stars
(259 total Amazon reviews)
Get Business Insights
Leigh's recommended reading of must read articles, books and tools to help you grow. Delete the fluff and read the good stuff.