Global Growth Consultant
Mike helps business leaders act with clarity, plan and execute winning strategy and generate outstanding results. In doing so, Mike helps create personal and professional excellence.
"It's a real honour to have someone of the calibre and experience of Mike E. Kennedy as part of the team at SSBG. Mike brings with him extensive experience working with CEOs and business leaders across different industries, working across all aspects of business and all levels of management. Without doubt, Mike is skilled at working with people. He quickly removes the ego from the room and uses his experience in training to gain trust, create focus and galvanise action.
Mike has seen and analysed many different business models, innovation strategies and development plans to take businesses to market and the world stage. His international experience and outlook are highly valued.
A big thinker with a strategic mindset, Mike is a natural fit with the mid-market business sector and SSBG. As our Global Growth Consultant, Mike has a deep understanding of the tools and methodology of the internationally proven business growth frameworks such as Scaling Up and the Four Decisions.
I look forward to a long and fulfilling partnership with Mike as part of the SSBG team." 
– SSBG Director Leigh Paulden
Mike's Qualifications
GI Business Consultant

Scaling Up with the Four Decisions Framework and the Rockefeller Habits

30+ years' experience as a business growth activator including:

17 years' experience coaching and mentoring CEOs and business leaders to achieve growth
In-depth understanding of different business models and innovation strategies
Global experience taking businesses to international markets
Experience in all aspects of business
Wide-ranging involvement across industries including finance, service, technology, construction, manufacturing and agricultural industries as well as NGOs, government sectors, religious and not for profit organisations
Extensive training and mentoring skills
Mike's Background
By the early 1980s, Mike had started, built and sold his first business. Here he'd gained valuable, first-hand experience of rapid business growth and quickly realised that growing people and growing businesses were two of his passions. Throughout his career, Mike has started nine different businesses and managed the sale of three of them.
Recognising the power of A-Players, over the next two decades Mike learnt to bring out the best in people and to enhance their thinking, learning and effectiveness. He worked with business leaders and facilitated workshops, groups, cultural change and think tanks. He developed his training and mentoring skills while building his business coaching practice in Australia, New Zealand, Cambodia, Canada, US, UK & France.
More recently, in Australia, through the unicorn company; NAVITAS, Mike worked with business leaders, founders, entrepreneurs and educators and analysed many different business models, innovation strategies and development plans to take businesses to market and the world stage.
Mike was first exposed to and started using Scaling Up, the Four Decisions Framework and the Rockefeller Habits in 2005. Finding that his work was leading him more and more into the mid-market space, Mike undertook his GI training in 2017 in St Louis, USA.
Mike is now one of only three GI Business Consultants in New Zealand and has joined Leigh Paulden and the team at SSBG to focus on the mid-market.
As SSBG's Global Growth Consultant, Mike combines his extensive experience, knowledge and people skills to unlock the capabilities of business leaders looking to grow their business at home and on the world stage.
"I work to champion business owners to see beyond boundaries, delve deeply, act without ego and build the collaborative power of their people."
– Mike E. Kennedy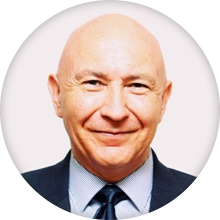 Mike E. Kennedy
"I work with mid-market business leaders to identify the problems and bottlenecks that stall action, create a purpose-driven focus and energise teams for growth."
Mike E. Kennedy is a Business Growth Consultant working alongside New Zealand businesses looking to grow.
LET'S TALK!

Get on the path to success
Are you ready to clarify your goals, refine your systems and create strategies for scalable sustainable business growth? Contact us to discover how we can help move your business forward.