Become a business champion by building your leadership skills as well as the capability of your teams.
To take your business to the next level, we guide you through the proven "Four Decisions" you must get right to maximise your revenue, profits and time.
The Four Decisions Framework has empowered more than 20,000 executives and their leadership teams to attract and keep the right staff; create a truly differentiated strategy; improve execution habits, and conserve cash to weather any financial storm. In any business, no matter what challenges you face, four critical decision areas impact your ability to grow.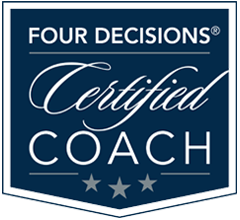 Four Decisions Framework
In any growing business, there are four critical decision areas that impact your ability for sustained growth. The internationally recognised Four Decisions Framework is a time-tested and results-driven business model that accelerates profitable growth by focusing these four decision areas:
People: build leadership skills and capability, reduce people drama, attract and keep the right people, build a healthy, strong business culture and stimulate your teams.
Strategy: create and execute a truly differentiated business strategy to drive revenue growth.
Execution: tighten up business execution and strategy execution habits to drive up net profit and give time back to the management team.
Cash: conserve and create cash to weather the storms and self-fund growth.
Proven Results
Business leaders implementing the Four Decisions Framework and working with SSBG typically experience:
2x or greater cash flow.
3x industry profitability.
Revenue growth.
Four Decisions Framework in place as part of the company operating framework.
Improved capability and alignment of teams leading to reduced people drama.
Valuation increase relative to the competition.
Reduction in the time it takes to manage the business by up to 90%.
Improved leadership skills and healthy, strong company culture.
More time for the right things in business.
An enjoyment of the climb to success!
Achieve Business Excellence With Four Decisions
PEOPLE
A successful business requires the right people doing the right things
Do you have the right people to grow your business? Challenges with people are the biggest source of emotional drain in business. Be it a client or staff member, issues will consume your emotional energy, making it difficult to focus on the other key growth drivers. Get the right people doing the right things with clear accountabilities, then you can move forward.
Is your team ready for the changes growth will bring?
Better shape the role of your people for long-term growth
Build your management capacity and lead effectively
A resource to identify who is responsible for what.
A resource to identify, assign and set KPIs for your critical business processes.
STRATEGY
Develop a solid, future-proofed, strategic plan to achieve business growth
If revenue is not growing as quickly as you would like – it's time to re-examine your strategy. Many organisations don't know where they want to be in a decade, so they don't know if their actions are right for the long term. Strategy does not need to be complex, but it does have to reflect what your company does best. Simple and consistent is the key. It must be adaptable to changing circumstances and needs to encompass the values, the purpose and competencies of your company.
Are your actions now right for the long-term?
Strategy is the most powerful driver of growth
Understand the power of the famed One-Page Strategic Plan
Identify trends, strengths and weaknesses that might impact your business.
Once you understand the Rockefeller Habits – use this to implement your strategy.
EXECUTION
Improve profitability and reduce the time it takes to complete the work
To achieve goals you've never achieved before, you will need to do things you've never done before. Is your team prepared and capable of change? If revenue is increasing, but your profit isn't, then you need to look at how you're executing your strategy. Execution drives profits and time management. Tighten your execution and you can significantly improve your margins and profits, while reducing the time it takes to complete the work.
Execution drives profits and time
Reduce the time it takes you to manage your business
Master the Rockefeller Habits and change will follow
10 essential habits which help major functions of everyday business to run smoothly and efficiently.
A resource to help you map the Who, What and When of your execution plan.
CASH
Do you have the available cash to grow your business?
Fact – growth sucks cash. Cash is oxygen to a company, so knowing your cash conversion cycles and improving them is vital for growth. Do you know how long it takes from when you spend a dollar, until you get that dollar back? Managing and growing your cash isn't strategy, but you can't execute your strategy without it! You can survive a long time without profit, but without cash, you will quickly fail.
How to manage your Cash Conversion Cycle
Double your operating cash flow in 12 months
Free up cash in your business to facilitate growth
A way to calculate the impact on cash when making changes to the 7 financial levers.
Understand and manage your Cash Conversion Cycle – use this resource to help.
Gravitas Impact Consultants
Gravitas Impact Premium Consultants and Coaches undergo rigorous annual training for their certification and are recognised as the most experienced and effective mid-market business growth consultants in the world.
Business leaders from mid-market companies work with Gravitas Impact Business Consultants to dramatically improve performance, revenue, and culture. Leigh is the only senior certified Gravitas Impact Business Consultant in New Zealand.