How To Create Rapid Financial Results And Lasting Cultural Change
By Rich Armstrong and Steve Baker
Reviewed by: Leigh Paulden
Date: 05/09/2020
Rating: 5 stars
Who should read Get in the Game: All CEO's and General Managers, especially emerging mid-market leaders.
"If you have heard about 'open-book management' and are wondering what all the fuss is about, this is the book for you. Rich Armstrong and Steve Baker explain the simple but powerful method that will unlock your business's potential for growth and profit". ― James Ledbetter – Former Editor in Chief, Inc Magazine and Inc.com
Leigh Paulden's comments:
The Great Game of Business is an open-book management operating system, based on the experiences of Jack Stack in the 1980s and how he and fellow employees turned a company destined for bankruptcy into a successful one. Get in the Game, is an expansion of Stack's work and includes a ten-step implementation guide to embedding open-book management in your business.
In Get in the Game, the authors use the essential components of a game as a way to teach your employees about the business and encourage them to participate and contribute to its profitability. Thousands of companies, worldwide, have used The Great Game of Business to their advantage.
Get in the Game levels the playing field, allowing everyone to act and take responsibility for the success of the company. This level of increased engagement has translated to measurable increases in Revenue (tw2x), Profit (6x), and three times the national average in Employee Engagement in the USA. Get in the Game is a practical guide to creating rapid financial results and cultural change.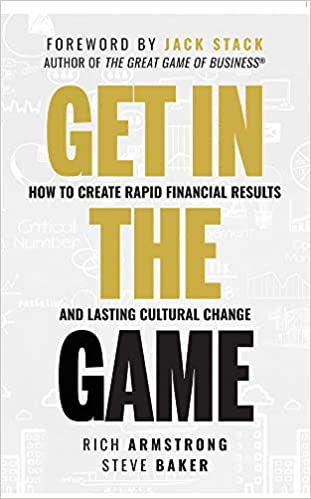 About The Book
Hardcover: 232 pages
Publisher: Advantage Media Group
Published: 2019
Language: English
Genre: Business/Management
Average Review: 5 out of 5 stars
(45 total Amazon reviews)
Get Business Insights
Leigh's recommended reading of must read articles, books and tools to help you grow. Delete the fluff and read the good stuff.